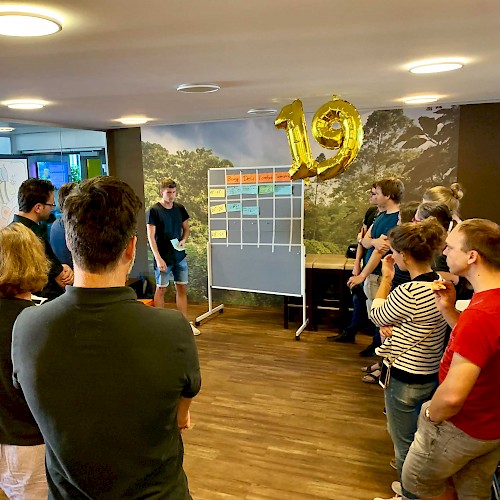 What is Sociocracy 3.0 and how can S3 be applied in companies? - Open Space at jambit
Sociocracy 3.0: How do companies, organizations (and also jambit) become more agile and resilient?
Sociocracy 3.0 has been an important topic at jambit since spring 2018. Socio-what? Sociocracy 3.0 is a modular and principle-oriented approach to organizational development for promoting self-organization in companies. To make this agile organizational approach more concrete for all employees, three jambitees organized an internal Open Space on Tuesday, July 23, 2019. From software developers to recruiters, numerous jambitees from different departments and positions attended and actively contributed to the evening event.
Three hours of Open Space, Sociocracy 3.0 as central topic for 15 sessions, more than 30 jambitees involved and countless valuable insights. The aim of this group evening was to learn more about the topic S3, but above all to enable the exchange of knowledge and opinions with other jambitees. In addition to an introduction to Sociocracy 3.0 for newcomers, the participants – or rather contributors – discussed how S3 can be applied in the working environment:
How can S3 be used in the daily project work?
Are there issues in applying S3?
How to get started with S3?
How can departments with strongly process-driven tasks sensibly implement Sociocracy 3.0?
Which patterns have the greatest value for jambit?
How do jambit's customers benefit from it?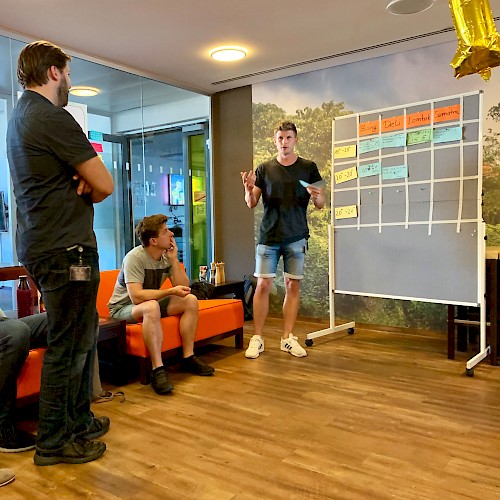 In the following, we describe three aspects more in detail: why we chose the Open Space format, what Sociocracy 3.0 actually is and it's value for companies/organizations. Our experience as suggestion how to promote and use S3 within the company.
Why Open Space? Advantages and special features of this format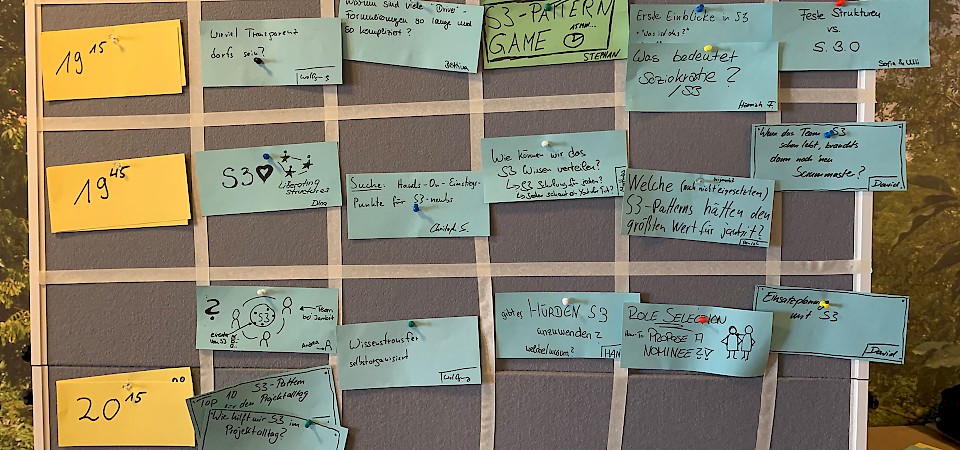 Dina, Martin and Stephan, the three initiators of the evening, chose the Open Space method to have enough room for discussing this broadly diversified topic – including all participants' different levels of knowledge and experience. A special feature and advantage of Open Space is that all participants are actively involved in the design and implementation of the event. This is why there is no predetermined agenda for an Open Space, no schedule that is strictly adhered to. Only topic, space and time are defined in order to give the Open Space rough clues and a framework.
An Open Space thrives on interaction and an open structure: at the beginning, all "contributors" (rather than participants) introduce their suggestions. Whether for a workshop, on a specific topic or a specific question, the main thing is that the topic is related to the umbrella topic. As a next step, everyone in the group votes on the agenda and decides why a session is actually being held. The word "contributors" is deliberately chosen, because the participants are more than just participants – they give active input. In conventional forms of organization, participants often only consume contents mainly passively.
Once all the contributors have joined together to form topic groups, the respective topic donor assumes responsibility for leading and conducting the workshop. At the end of each session, there is usually a documented result, which is then presented to everyone else. This is another central element of the Open Space method.
The basic principles of Open Space
The basic idea of contributors, interaction and open structure is already known. In addition, Open Space is immanently based on the "Law of Two Feet". This means, everyone should always be in the group where they can make a contribution or learn something. Common words in this context are also "bumblebees" and "butterflies". Bumblebees fly from workshop to workshop and "fertilize" them like flowers and butterflies attract others.
Open Space follows four principles:
Whoever comes are the right people.
Whatever happens is the only thing that could happen.
Whenever it starts is the right time.
When it's over, it's over.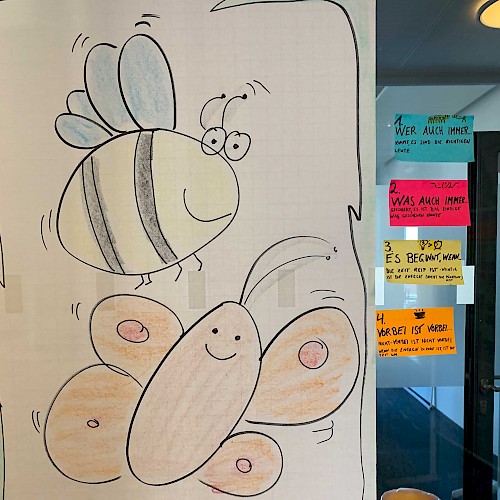 A perfect match: S3 + Open Space + jambit
With this form of open and informal exchange, Open Space fully meets our jambit corporate culture, in which continuous exchange of knowledge and initiative play an important role. In addition, many Open Space approaches can also be found in Sociocracy 3.0: both are characterized by self-organization. The four principles and the "Law of Two Feet" of Open Space fit the principles and patterns of S3, such as "Artful Participation". This perfect match made Open Space the ideal format for a successful evening.
The Open Space has made S3 visible at jambit and inspired other jambitees to adapt it – I'm thrilled!
What does Sociocracy 3.0 mean and who can use it?
Sociocracy 3.0, also called S3, continues – as a liberal variant – the organizational form of sociocracy developed in the middle of the 20th century, promoting self-organization as key element. In contrast to the original form of sociocracy, S3 integrates lean and agile approaches and adapts their methods to modern times.
Sociocracy 3.0 is particularly suitable for agile companies whose employees are already familiar with the concepts of agile work. In general, however, each working group can adapt the principles of cooperation defined in S3 and modularly pick out the building blocks that work for the group and the purpose. Sociocracy 3.0 is freely usable through a Creative Commons license and is jointly further developed.
How does S3 work? Driver - Roles - Consent
Sociocracy 3.0 defines three core elements to build an organizational form in the sense of S3: Driver, Roles and Consent. The driver represents the person's or group's motive for responding to a specific situation. It can change over time and goals or visions can be oriented towards it. For participation in S3, roles are defined that are independent of individuals and can be changed or even abolished at any time. All participants agree on a definition of a specific role. Afterwards, every individual chooses who best fits this role and justifies their choice in an open discussion. On this basis, it is decided who takes on the role.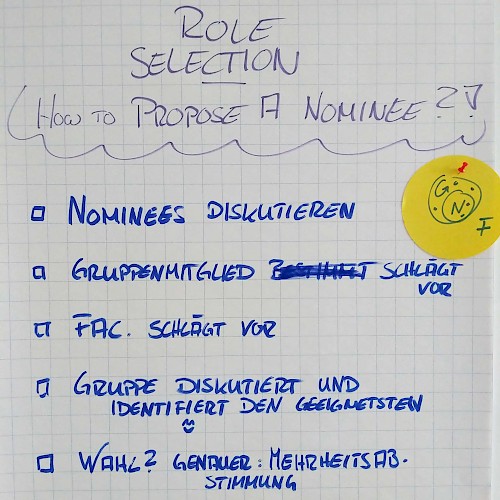 Consenst instead of consensus: decisions are not taken according to the "consensus" principle, but according to "consent". Sociocracy 3.0 separates justified objections from personal opinion. Decision making does not take place through a firm agreement in the sense of "for or against", but through the elaboration of a solution acceptable for all at this time. This solution does not have to be perfect. "Good enough for now and safe enough to try." True to the motto of S3 inventor James Priest, decisions can also be made that integrate meaningful objections appropriately and, for the moment, represent an acceptable choice for everyone.
In addition to the three core elements, Sociocracy 3.0 offers several patterns that help with the organization and can be implemented individually. These are based on seven principles:
Effectiveness: Devote time only to what brings you closer toward achieving your objectives
Consent: Raise, seek out and resolve objections to decisions and actions.
Empiricism: Test all assumptions through experimentation and continuous revision.
Continuous improvement: Change incrementally to accommodate steady empirical learning.
Equivalence: Involve people in making and evolving decisions that affect them.
Transparency: Make all information accessible to everyone in an organization, unless there is a reason for confidentiality.
Accountability: Respond when something is needed, do what you agreed to do, and take ownership for the course of the organization.
What a great event! It was nice to see that there were a lot of people for whom S3 was still new.
Sociocracy 3.0 in the company – Another component of jambit's corporate culture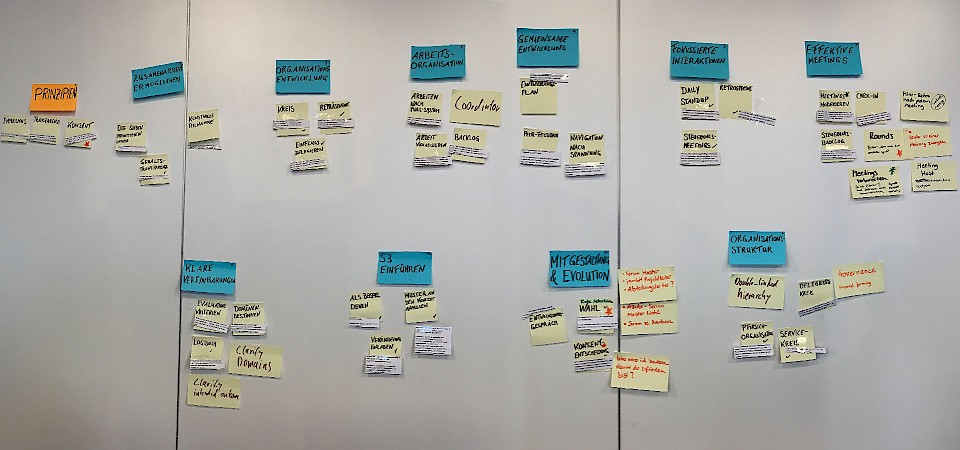 One of the biggest influences of S3 is the agile mindset and the lean approach. Agility should not be understood as a method, but as an attitude. The source of agility is agile software development. As a software service provider for renowned customers, our IT development teams have been working in agile structures, processes and cycles for many years. To include agility in the level of organizational development and to anchor it in the corporate structure seems almost like a long overdue step. S3 fits naturally into our jambit cosmos.
Since the beginnings of S3 at jambit, a lot has happened – and a lot is yet to come. Discovered by our Head of HR at a Meetup in fall 2017 and presented to our founders, we got to know James Priest, his captivating nature and the basic ideas behind S3 for the first time in spring 2018. The jambit management team had the chance to dedicate three days exclusively to the topic of agile management. Ever since, most jambitees know about our "liaison" with S3 or at least since the guiding principle "artful participation" has been displayed in all meeting rooms.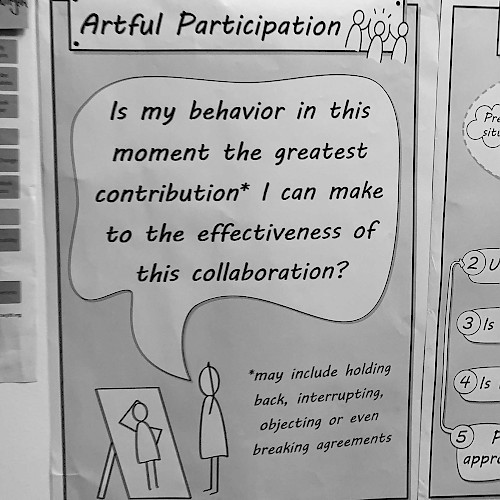 This was also confirmed during our Open Space on Sociocracy 3.0: every now and then, many jambitees already use the S3 patterns modularly in their projects, consciously or unconsciously, or sometimes only under a different name. For example, the patterns are suitable for making quick and safe decisions in teams or assigning roles in teams. Principles such as effectiveness, transparency and accountability are already firmly anchored in jambit's corporate culture. Meetings are designed to be as effective as possible and relevant information is made available to all participants.
How can Sociocracy 3.0 help in everyday work? There is no right or wrong answer to this question, because S3 is not a recipe, but a tool. You don't have to follow strict rules to achieve the desired result. Why and how this tool is used best always depends on the task and is left to the participants themselves. When elements and principles of S3 are used meaningfully and adapted to the individual needs, they can help any organization.
Our conclusion: working with S3 is worth it for jambit and our jambitees. And to be honest, due to the established methods of agile software development, S3 doesn't feel that new to most jambitees.
More about agile work at jambit
Interested in becoming part of our team? Find out more about jambit as an employer now!