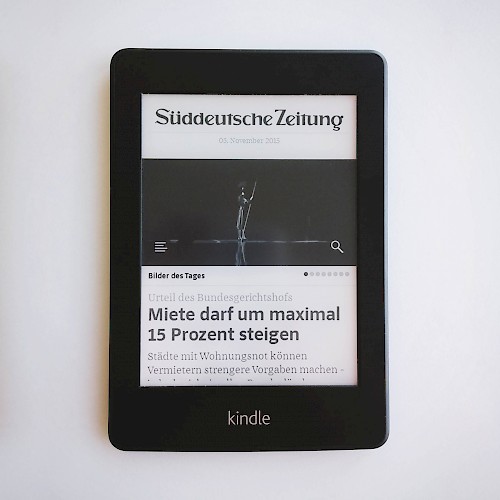 SZ Plus now also for e-readers
jambit successfully supports the SZ with the expansion of its digital offers
The Süddeutsche Zeitung (SZ) expands its digital offers – and once more, jambit has supported the SZ with the successful implementation. From now on, readers have the opportunity to download the digital version of the SZ on their e-readers to read it comfortably at the breakfast table or on the go.
A well-established team of developers from the Süddeutsche Zeitung Digitale Medien GmbH and jambit have led the project from the planning phase over design, implementation, integration and load tests to a successful go-live. A special feature of the solution is that editors of the digital edition do not have any additional work, since the e-reader version is generated and provided for download automatically.
The offer fills the niche between the printed version and the digital editions for smartphones, tablets and desktops, which have been jointly developed by the SZ and jambit as well. Due to the specific e-ink technology, which is used in most e-readers, the reading experience resembles reading on paper. Combined with the advantage of mobile devices – the possibility to read the newspaper quick and uncomplicated on the move – it is an attractive complement to existing digital offers by the SZ.