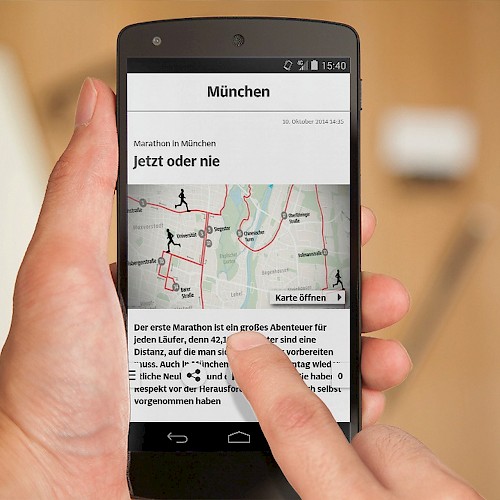 SZ and jambit launch innovative news app
CEO of SZ Digital Media praises project success
Since mid-October, the renewed news app of Süddeutsche Zeitung (SZ) for Android users is available at the Google Play Store - the successful result of a cooperative project between jambit and SZ Digital Media. Thanks to the use of new technologies and a completely revised architecture, it is now possible for readers of the mobile app version of SZ to get informed about the latest news and interesting background stories easier and quicker than ever before.
The new features include, among others, a navigation bar which can be expanded and collapsed at the side of the screen and allows users to save or share articles or switch back to the landing page without unnecessary scrolling. A news scanner in the lower right corner of the screen shows readers how many new articles were published in the news ticker in the meantime. The news ticker is then easily accessible by one click and readers can comfortably scroll through the latest news in chronological order. And thanks to the effective utilization of the newest technologies by our jambitee project team, these and further features are available in a speed that allows even readers with a busy lifestyle to be continuously informed.
The app was highly praised by users as well as the CEO of SZ Digital Media. jambit is proud to have completed another project successfully, and looks forward to the future cooperation with SZ and all other clients who demand "100% successful software projects"!