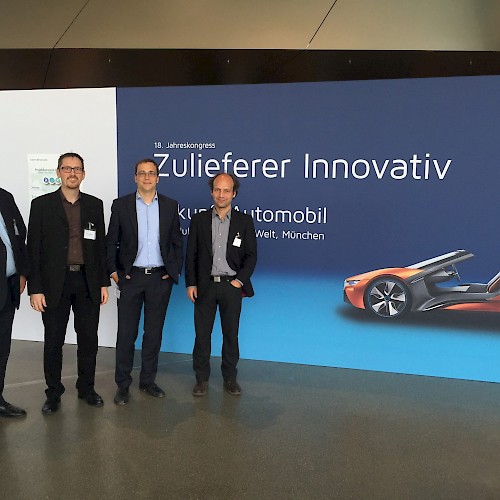 "Suppliers Innovative" at BMW World
Mobility and vehicle development in (digital) transformation
Which technologies are affecting the future mobility? Will new vehicle concepts stand up to traditional cars? How are automotive value chains shifting?
Questions that concern jambit as well as many other suppliers and service providers of the automotive industry. Questions for whose response the 18th annual congress "Suppliers Innovative – Future of Automotive Industry" by Bayern Innnovativ provided interesting impulses.
Speeches and discussion platforms on the topics mobility and vehicle development offered an informative and inspiring program on July 04th and 5th at BMW World Munich. The event's main focus was on the direct dialogue of experts and decision-makers from industry, academia and politics.
Professionals and managers of jambit's automotive division visited the congress to broaden their minds.
"The exhibitors and speeches were very multifaceted and impressing. For example, one presented project dealt with an innovative lightweight construction method that allows to reduce a vehicle's weight by up to 100 kg. Another speech showed how a complete vehicle can be printed via 3D printing.", Helmut Berger, Head of Department in the Business Division Automotive Bavaria, describes his impressions. "Of course, the developments in the software area of the automotive industry are particularly relevant for jambit. The report of a leading automotive manufacturer about its way from "metal bender" to mobility service provider was very informative. It showed us that jambit is on the right track with its continuously growing service portfolio for the automotive industry."