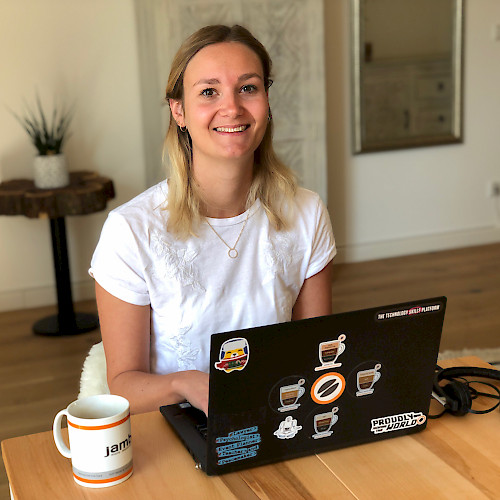 Enhance software developer skills while working from home
How do software developers at jambit keep their skills up-to-date? All jambitees have five training days per year. At jambit, developers get a versatile and broad field of tasks, which requires a high level of technological know-how and solid knowledge of methods. Even in the current exceptional situation, there are still courses and further trainings for our jambitees. With the ban of in-house seminars, the jambit training team had to quickly reschedule. In a guest article in t3n and in this interview, Christin, Specialist Personnel Development, is currently giving an insight into how further training can also work remotely.
Christin, at jambit you take care that software developers also have a broad and up-to-date skill set even while working from home. Are all further trainings cancelled now?
We are working with full energy to develop new formats for further trainings. For this purpose, we had to adapt our trainings quickly. We actually conduct our in-house training courses without remote solutions, so that colleagues can network professionally and personally outside of their projects, even across different locations. This should now also be possible in the remote version. For our trainings, we hire specialists, i.e. external trainers, on a long-term basis. In this way, we achieve an optimal matching of the skill requirements of our software developers when staffing IT projects. Together with these trainers, we have come up with tailor-made concepts that now also work remotely. Our software developers have already completed the "Testing" and "Data Science" courses remotely. With great feedback. And we do not only offer technical training remotely. Methodical workshops such as "Design Thinking" and our lateral entry course "Software Development in Practice" are also continuing.
How do the skill sets of jambit's software developers benefit from further training courses?
Each jambitee determines their individual further training path and has an annual contingent for further training. They can choose from a wide range of possibilities. We create this on the basis of employee ideas, experience of (tech) experts and our managers. All trainings are carried out in-house at jambit, which is important to us, because this way networking takes place across the different business divisions such as automotive and banking or industries and locations. Together with the trainers, we develop the further trainings tailored to the needs of our jambitees.
In the future, I look forward to a wide range of offers in our great seminar rooms with a view of the Alps, but also to translating the many experiences from the remote phase into modern training concepts.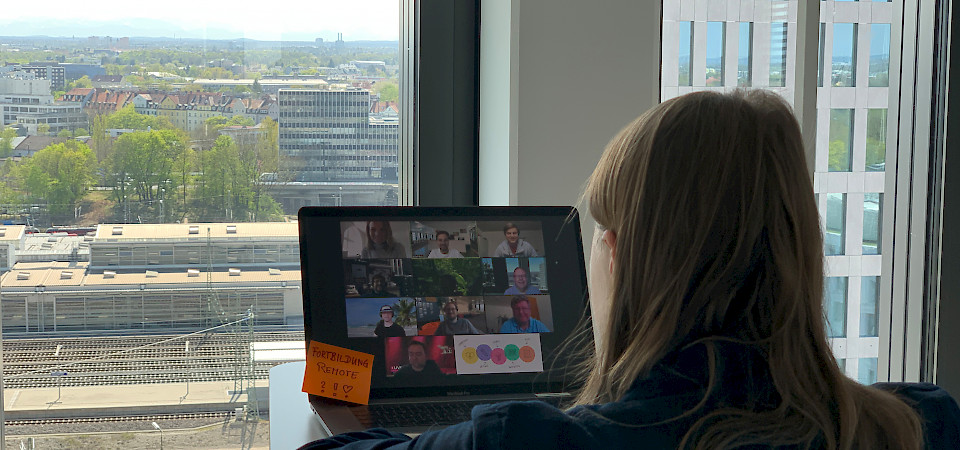 What do I have to consider when planning a further training course remotely?
For the remote trainings, we have cut the number of participants approximately in half and split training courses to ensure better support by the trainer. In our opinion, more than ten participants do not make sense for such a remote training. We also divide some further training courses into smaller time units stretching them over several days so that attendees do not have to spend the whole day in front of the computer. The trainer joined the participants as in a normal training course and was available to answer questions. Even breakout sessions in small groups are possible, similar to face-to-face training.
What did you learn from the remote training sessions and what are you currently working on?
We use the current situation as an opportunity to try out new concepts and ideas. We are even currently expanding our range of services: remote work opens up new opportunities, such as self-study. We are also creating a platform that gives the jambitees an overview of who has already had experience with which online courses. In this way, islands of knowledge are broken up and valuable experience is passed on. Anyone who has ever considered taking an online course knows that the personal assessment and experience of a colleague often counts for more than an info text on the website of a course provider. In my function, I have now learned that we are even more aware of our role as learning consultants. With our broad experience, we can help with questions like: can you name any providers of online courses? And which colleagues are already experts in this field?
You have just opened up your new training center with a view of the Alps in the new Munich office on the 13th floor. Why do you stick with in-house trainings?
In addition to knowledge transfer, the networking idea is also the focus of our further training courses. That's why, with the move to the new jambit office at Munich's Hirschgarten, we have also created our own meeting space. For us, the 13th floor is both a training center and a place for exchange. Currently, our jambitees continue to profit from top training courses, but one thing is still missing: the joint lunch and the exchange during the breaks. We regularly have our training courses evaluated by jambitees in order to quickly respond to requests or adjustments. And in addition to the technical and didactic demands, jambitees also evaluate the catering very bluntly. In the future, I look forward to a wide range of offers in our great seminar rooms with a view of the Alps, but also to translating the many experiences from the remote phase into modern training concepts.