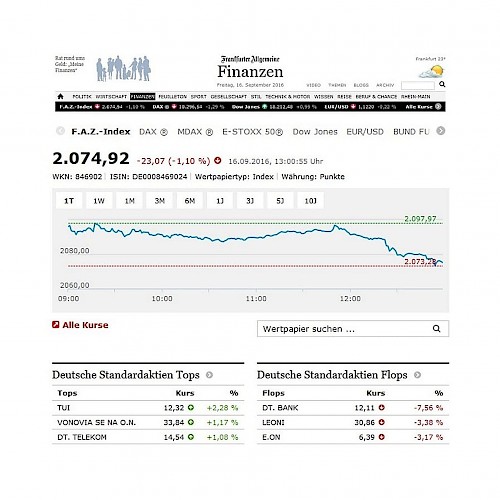 Redesign of FAZ financial news
jambit modernizes the share prices of FAZ.NET
The Frankfurter Allgemeine Zeitung has redesigned the financial section of its online presence with the help of jambit. In this section, readers find share prices, index quotations, exchange rates, futures and many more security related data.
In the course of the project, data and assets of the new financial data service provider vwd were integrated. The overview and security detail pages have been modernized optically and technically and provide readers with further information and additional financial indicators.
Due to the responsive implementation of elements, data adjusts automatically to the assigned space. An illustrative example of the new possibilities is the display of most relevant financial indicators in the title bar of the financial section.
For readers and editors, the new financial section of FAZ.NET is an important milestone on the way to optimized news services and user experience.
Learn more about jambit and our work for the FAZ (in German)