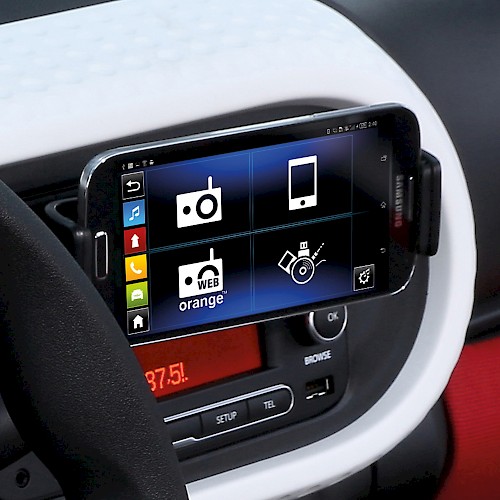 R&Go gets award for "Best mobility idea" in Paris
jambit app for Renault impresses with diverse features
Last week, the system R&Go for Renault Twingo was presented at the Paris Motor Show 2014 (October 04-19) and was promptly awarded by the press with the "Coup de cœur de la bonne idée mobile", the "Price of the hearts for the best mobility idea".
Since 2012, the employees of our Business Unit "Mobility" work on the project for Renault. They developed an integrated interface between smartphone and head unit and a corresponding free app with diverse features. It facilitates the usage and administration of multimedia functions like radio and USB connection, an integrated navigation system, smartphone functions like phone, SMS and calendar and offers access to additional vehicle data which allows, among other things, to analyze, compare and optimize the own driving efficiency.
jambit is very pleased about this award and is curious to see how R&Go continues to progress further on the market. Read more in our innovation story about R&Go!