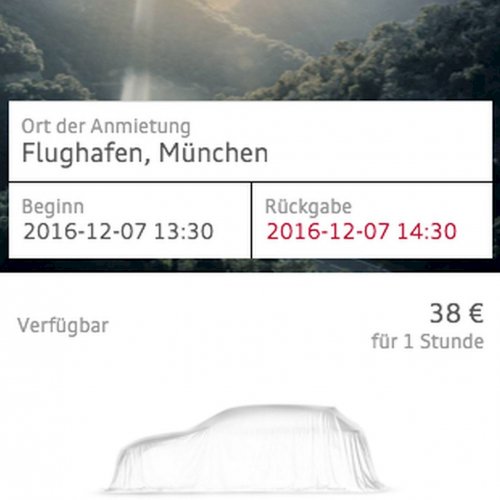 Premium car sharing at Munich Airport
jambit develops app for premium car sharing model at Munich Airport
As of late, a renowned German car manufacturer provides a new service at Munich Airport. After a simple online registration, customers can rent a premium car directly on site in order to continue their journey smoothly. They can choose from 10 different car models – from stylish cabriolets to all-terrain SUVs. At the agreed time, the car will be driven up by a porter. After the booked period of time (hourly or daily), the porter will take back the car.
jambit has developed the customer app for the car booking process. It is based on Angular JS in the frontend and the responsive design ensures that it works optimally on all end-user devices. Users can choose between the languages German and English in their personal configurations.
Furthermore, jambit has developed the operations dashboard for the administration of cars and bookings. The backend consists of a modern Java application which uses the framework Spring Boot, as well as a PHP application which was implemented in the popular framework Laravel.
Back in August, the car manufacturer has already launched a similar service in China in cooperation with jambit. In future, the service should be expanded to further locations in Germany and other countries.