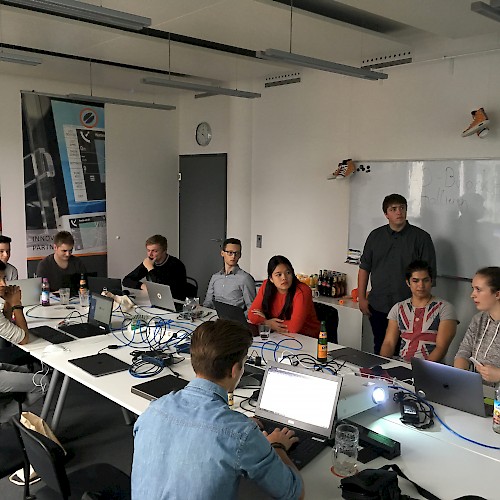 New trainees ready for takeoff
We are proud to welcome our six new apprentices!
In September, jambit starts a new year of training. We are pleased with the keen demand and the confidence shown in us as a training company. Developing young talent is a key concern of ours. Since there are too few computer scientists on the market, we foster education and trainings by ourselves.
Rating a new record, we are excited to welcome so many new apprentices – more than ever before. Four apprentices are starting their training as IT specialists in application development and supporting our business divisions Media&More and Automotive. Two more will actively assist our competence centre Platforms & Operations as prospective IT specialists in system integration.
Apprentices helping apprentices
During the three-year training period, our existing apprentices are available to help the new once in all matters of training and to support them. Right from day one. On the first working day, our existing apprentices gave the newcomers a guided tour through all four levels, introduced the most important departments and gave them an initial system and software training session. And as a warmup, the new apprentices are working on their own Python project in the first week of training.
Furthermore, all the prospective IT specialists purposely pass through different departments, which allows them to gain a deeper insight into all areas of work and various technologies.
In three different departments, the application developers learn back-end, front-end and native mobile development – and at the same time get to know our mix of sectors and project types, different teams and team sizes, as well as various project management methods, tools and technologies.
Our upcoming IT specialists in system integration start their training at the help desk, getting to know the jambit infrastructure and look after their first, internal clients. They too learn programming and will be employed in development projects in a DevOps environment at a later stage of their training, and get in touch with cloud technologies, security topics and other service topics in the process.
Wanna join in 2018? Apply soon.
We will be advertising our training places for 2018 this month. So, if you are interested in IT and would like to work in an innovative and friendly working environment, you can apply soon.