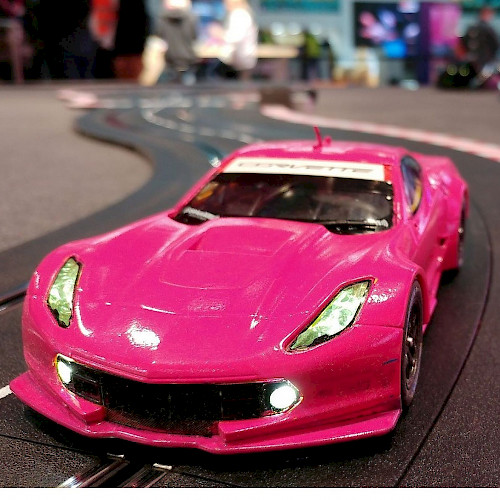 Mobile World Congress 2017
Augmented Reality on the Carrera track
From February 27th to March 2nd, 2017, Telekom and jambit presented an innovative Augmented Reality showcase at the Mobile World Congress in Barcelona.
By means of the HoloLens, Augmented Reality glasses by Microsoft, the ride on a Carrera track became an extraordinary experience. While the track seemed to be rather inconspicuous on first sight, an elaborated race track with stands, figures, pit stops, eating stalls and more loomed up before the bespectacled eyes of the user. Through fastest image recognition via a 5G solution and position calculations in the Cloud backend, the Carrera cars were complemented with additional graphics (e.g. direction arrows, race position) throughout the ride with incredibly low latency.
Thus, Telekom showed convincingly the benefits of the future mobile communication generation, the LTE successor 5G. Besides enabling fascinating Augmented Reality games, the high bandwidth and low latency of the 5G network will revolutionize M2M communication, telemedicine applications or Smart City solutions in future.
See the Youtube video: Technology, Tapas, Telekom – Brain Bites from Barcelona: 5G
Learn more about jambit's competences in the field of Virtual & Augmented Reality – we look forward to your message!