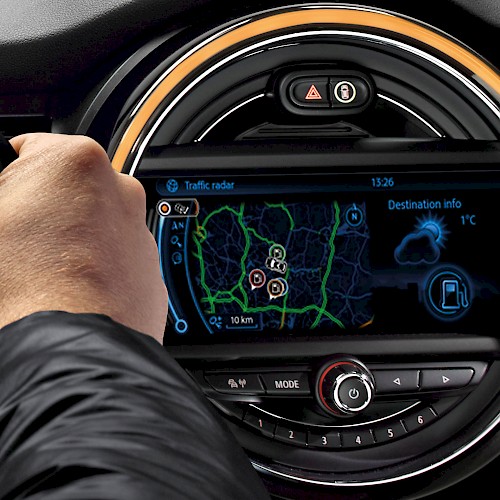 MINI Connected XL Journey Mate
Innovative app by jambit & BMW
Already since April 2014 established on the market, now the latest version is available: The BMW MINI Connected XL Journey Mate 1.3.
The Journey Mate is an innovative highlight from a range of diverse apps, specifically developed for BMW MINI models with the special equipment MINI Connected XL.
After having connected their smartphones with the car via USB, MINI drivers can access the apps via a large display in the dashboard. They can choose from a variety of features making driving more comfortable and entertaining – like the Journey Mate.
What exactly does the Journey Mate offer? The list is long: Already before departure, routes can be conveniently determined and saved on the smartphone. It is also possible to save To Do's or call reminders which are then displayed at a certain time. During the journey, the driver stays up-to-date about the latest traffic and weather conditions, gets reminders for taking breaks and guidance to the nearest petrol station or parking facilities if needed.
The Journey Mate App is available for iPhones as well as Android smartphones.