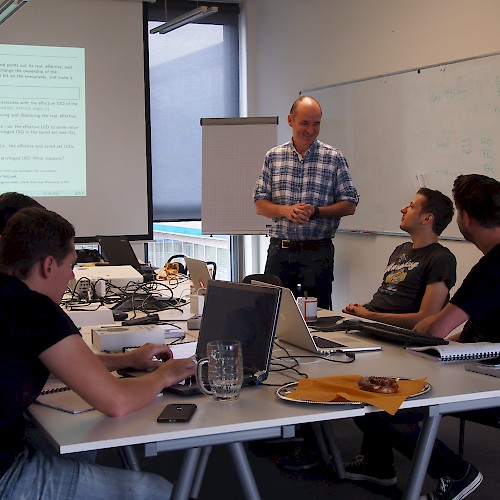 Linux System Programming Week @jambit
Inhouse training with Linux expert Michael Kerrisk
The software world is turning fast – therefore, employee trainings spread over the year play an important role at jambit.
We are always particularly happy when Linux guru and long-standing jambit friend Michael Kerrisk holds one of his popular Linux System Programming Week inhouse.
For a whole week, he provides participating jambitees expert insights into the architecture and interfaces of the Linux operating system. Through a successful mixture of detailed presentations and practical exercises, jambitees learn to build complex system, network and multithreaded applications.
The summer edition of the Linux System Programming Week at jambit started on Monday. The participants look forward to two more interesting days with Michael Kerrisk – and to apply their new skills eventually in future customer projects.
Learn more about the working and learning culture at jambit!