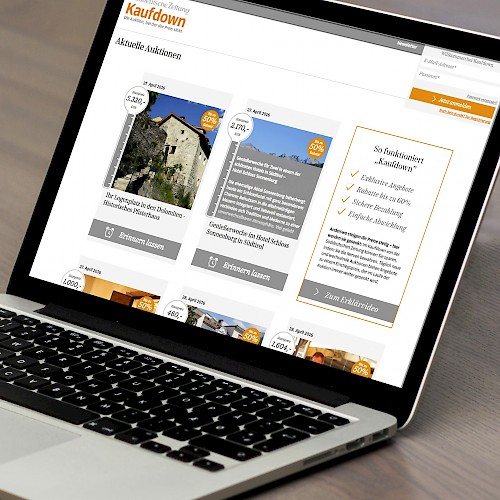 Kaufdown 3.0 – Upgrade von Lizenznehmern
Clients profit from new features of the auction platform Kaufdown
After the comprehensive technical revision of the auction platform Kaufdown in April of this year, now the first licensees have performed an upgrade to the latest version.
Within the project Kaufdown 3.0, the foundation was laid for adding new clients to the Kaufdown platform of Süddeutsche Zeitung in a simple manner. All clients access the same database and use the same frontend and backend architecture. At the same time, a client-specific branding of the respective auction platform is possible with only a few changes at the basic layout. Naturally, data of individual clients is strictly separated from each other.
Due to the upgrade to Kaufdown 3.0, now the licensees benefit from the technical innovations just as Süddeutsche Zeitung. A modernized design and various new features facilitate the administration and improve the user experience considerably.