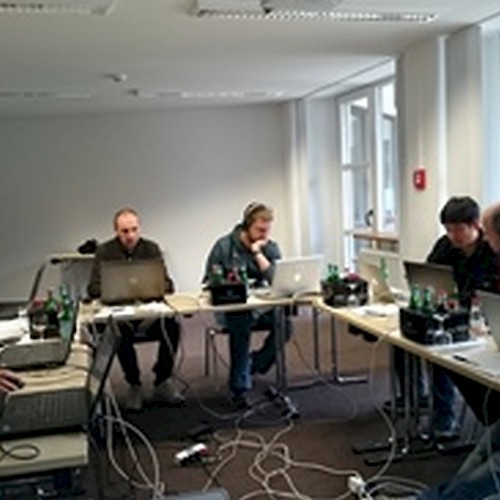 jambitees on the training track
Employee development à la carte
The world of software development is in constant change: Technologies which are up-to-date today can be obsolete tomorrow; inconspicuous developments can become megatrends overnight.
In order to be able to advice our customers competently at any time and to provide software solutions based on the latest know-how and technologies, jambit promotes its employees' potential with a variety of internal and external further trainings.
Currently, some special highlights of jambits training catalogue take place: From 'Java is back' over 'Internet of Things' and 'Big Data Analysis' to 'Digital Safety'.
'At the moment, many new possibilities to enhance the private and business life through technology arise. Our task is now to exploit these possibilities effectively and responsibly for our customers. Further trainings at jambit provide valuable support for it – and contribute to my personal development as well!', says a jambitee.
The trainings do not come 'out-of-a-box' – they are specifically designed for jambit by qualified internal and external coaches to fulfill current and individual requirements. Besides technical courses, trainings concerning organization and project management as well as soft skills are provided regularly.