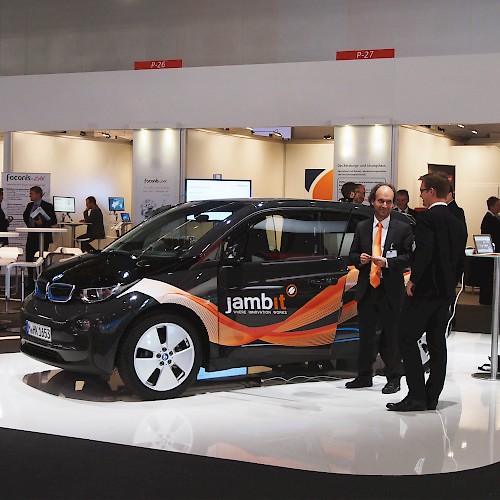 jambit as partner of Finanz Informatik in the field of innovation
With an exhibition stand and a CEO speech, jambit scores at the FI-Forum
From November 18th to 20th 2014, the traditional in-house exhibition of the Finanz Informatik (FI) in Frankfurt took place, attracting nearly 11.000 visitors. Being the central IT service provider for the Sparkassen-Finanzgruppe, FI placed the focus on IT solutions in the fields of multi-channel sales, regulatorics and process optimization at saving banks, regional banks and regional building societies.
As partner in the field of innovation, jambit was also on board: It held numerous talks with directors, executives, users and IT specialists of the Sparkassen-Finanzgruppe and strengthened and established interesting contacts.
Positioned directly at the main stage of the event, jambits BMWi3 was a special eye-catcher. jambit presented its HTML5 competences by the example of the complex interconnectedness of the head unit of the car, the i3 app and a Galaxy Gear.
Besides, jambit showed two brand new innovations: Screen-Mirroring, which provides bank customers with an interactive consulting experience as it allows the consultant to reflect any application from a mobile device on big screens and to lead through the consultation by using a synchronized touch control.
Another show case was the prototype for 'Sparkasse on the wrist': jambit showed how an app with various features such as account balance enquiries, a news overview or an account alarm-clock could look like on diverse smartwatches.
A large crowd was attracted by the jambit-speech in the expert forum 'innovations'. Titled 'The fastest HTML5 apps of the world – What the financial industry can learn from automotive manufacturers' , CEO Peter Fellinger drew parallels across industries explaining how modern HTML5 development can lead to success and which potential pitfalls might occur.