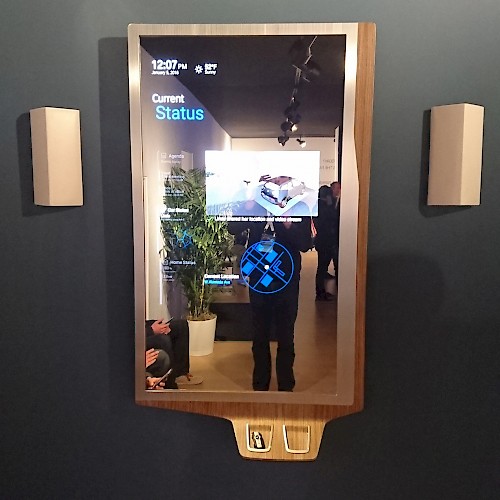 Innovative Smart Mirror at CES 2016
BMW Connected Mirror – Major attraction at the CES 2016
Mirror, mirror, on the wall… Which appointments do I have today? What is the best way to get from A to B? And should I rather take my umbrella or my sunglasses?
Der BMW Connected Mirror reveals it to its user – a quick glance in the mirror is enough, whether in the bedroom after getting up or in the corridor before leaving the house.
In addition, the Smart Mirror is able to give car models with advanced driving assistance technologies the command to drive up or park in the garage autonomously via a Smart Home connection. Furthermore, users can access relevant vehicle data and can chose the charging option (solar, off-peak electricity, immediate charging) for the vehicle.
Moreover, the connection with a complete Smart Home system is possible in order to track the daily energy flows in the house via the Smart Mirror.
The BMW Connected Mirror is still a prototype which celebrated its debut at the CES 2016 in Las Vegas. But in view of the extremely positive feedback of the CES visitors, it would be no surprise if it becomes a hit on the market soon.
You would like to know more about the BMW Connected Mirror? We look forward to your message!