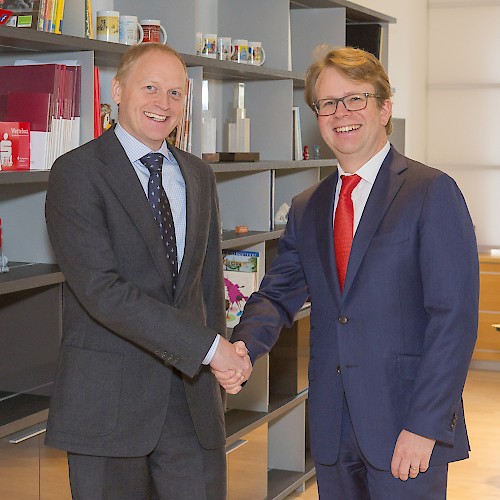 Innovation partnership with the Stadtsparkasse Munich
The SSKM and jambit drive digitalization in the world of banking
The Stadtsparkasse Munich (SSKM) and jambit get started with an innovation partnership. From now on, they will jointly develop and implement digital products and services for clients and employees of the SSKM.
"With jambit, we have a strong digitalization partner at our side that knows the Sparkassen organization very well and provides technical expertise and modern technological know-how from various industries. Together, we develop innovative solutions for our clients and employees in order to exploit the opportunities of the digital transformation as pilot institution to the benefit of all.", says Dr. Bernd Hochberger, board member of the SSKM.
The pilot project of the innovation partnership is a Smart Mirror prototype for private use. It has got a mirroring display with a gesture-controlled operating concept and can be installed in the bathroom or hallway, for example. The Smart Mirror shows the status of Smart Home applications as well as current news or the weather forecast. Additionally, it provides the opportunity to check current banking data, to keep track of accounting movements or even to activate an insurance.
The Smart Mirror will be presented for the first time at the FI-Forum in Frankfurt from the 15th to 17th of November. In the "Innovations" area, the SSKM and jambit will have a joint exhibition stand.
Further innovation topics for future cooperation are already in the planning stage.