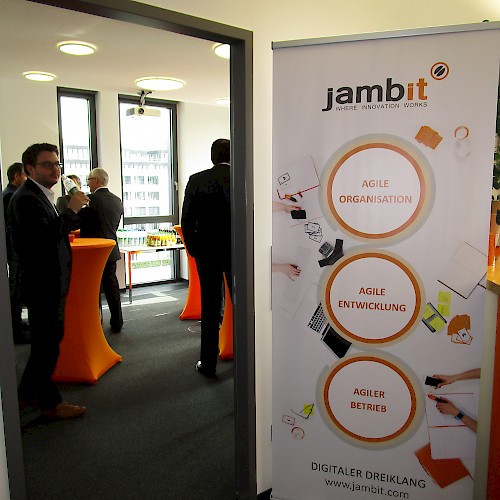 Identifying and implementing innovations – from idea to living system
Representatives of the insurance sector meet at jambit
"Identifying and implementing innovations - from ideas to living systems": Under this motto, a special conference of the Association of Insurance Economists (Vereinigung der Versicherungs-Betriebswirte, VVB) took place on April 28, 2016, at jambit. An exclusive circle of representatives of renowned insurance companies was invited to exchange ideas about managing digital transformation in their industry.
After a collective breakfast with coffee and brezels, the conference started with an introduction by Franz-Peter Wirtz, head of the VVB expert group Business Organization/IT, and Armin Herzig, Sales Director for the division Banking & Insurance at jambit.
Afterwards, Karl-Heinz Naumann, senior head of department Customer Service at the Versicherungskammer Bayern (VKB), presented the "Beginning of the cognitive era in the insurance sector". He illustrated the issue with a current innovation project at the VKB: the well-known Watson Project. It is a research project by IBM, the University of Applied Sciences Munich and the VKB about the analysis of unstructured data in the field of insurances.
Subsequently, Frank Strobl (Head of New Business) and Thomas Rottach (Head of Automotive Bavaria) from jambit went into detail about the topic "From prototype to productive system".
It was important to present new product ideas to the target group as soon as possible and to gather feedback. Thus, a product could be developed in iterative steps, optimally tailored to the customers' needs. If a product turns out to be a flop, it was not at all a waste of time but rather an enriching experience for future projects.
In the afternoon followed workshops in small groups. At four stations, participants discussed the topics "Innovation Management", "Agile Development", "Agile Operations" and "Agile Organizations" together with experts from jambit. They defined the position of the various insurance companies in the transformation process and talked about obstacles they face. Together, they developed strategies and concrete recommendations for actions and finally presented their results in front of all participants.
The constructive workshop results and positive feedback of the participants speak for themselves: With this special conference, VVB and jambit have picked up a highly topical issue and provided inspiration for shaping the digital transformation in the insurance sector!