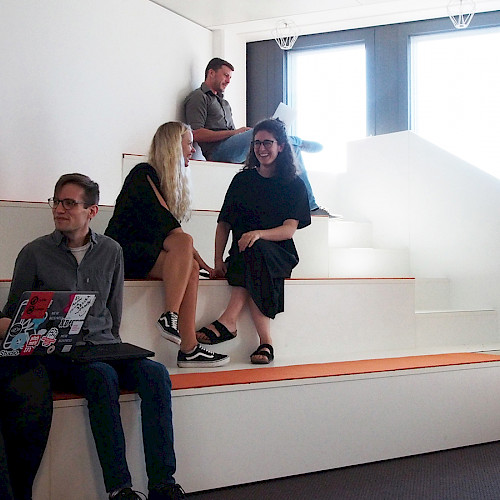 How does personal development work at jambit
Three jambitees report on their experiences, their latest CPD course, and their development at jambit
The topics knowledge management and further development are very important at jambit. In addition to numerous offers for the acquisition of knowledge and the possibility of Vertrauenslernzeit, all jambitees have five days of Continuing Professional Development (CPD) per year. At jambit, developers are confronted with a versatile and broad field of tasks that require a high level of technological know-how, solid methodological knowledge, and good personal skills. But how do software developers at jambit keep their skills up-to-date? Are technologies acquired and enhanced according to their own interests or rather to the project scope? And how does knowledge sharing can be practiced at jambit using the toilet ? Three jambitees provide these and other insights in an interview.
Peter Haubner, Software Architect at the Business Division Automotive Bavaria, and Robert Gruner, Software Engineer at the Leipzig office, have chosen Kotlin for back-end and Marcel Jacob, also Software Engineer at the Leipzig office, participated in Big Data in Practice as CPD cours this year. In the interview, they talk about their personal motivation in planning and selecting CPD ourses and their further development at jambit.
Learning in customer projects and CPD courses

"Learning about technical innovations and, above all, discussing the topics in a team are very important to me when selecting CPD courses," says Peter Haubner, who works as a Software Architect in the Business Division Automotive Bavaria. The offer for further development at jambit is versatile. Demanding customer projects, the broad selection from the CPD course catalog or the engagement as a speaker at meetings, conferences, etc. offer possibilities. But how do jambitees themselves experience their further development, in addition to the numerous offers? According to his previous experience at jambit, Robert Gruner, Software Engineer at the Leipzig office, says: "Primarily, of course, you learn directly in the projects. It is almost impossible to find yourself in a project at jambit where you don't learn anything new." In addition, you can develop yourself further through CPD courses and Vertrauenslernzeit. Most of the work enables continuous learning in a wide variety of topics – project-related or through other offers".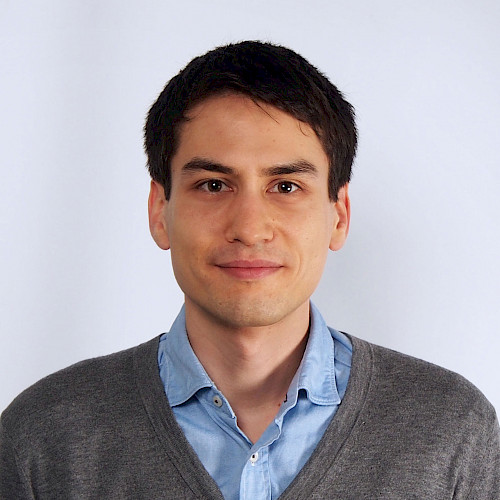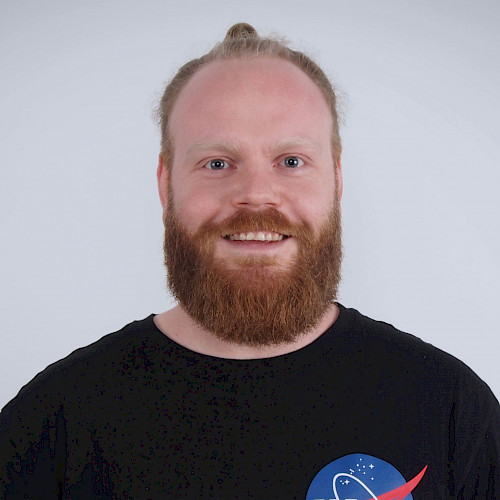 In addition to the development of technological knowledge, the CPD course catalog also includes social and methodological skills. With five CDP days per year, a balanced mix of these skills and change of perspective is just as desirable as pure professional/technical development. With the offer, jambitees should get the chance to think, work and develop "outside the box". In addition to the CPD, jambit offers the possibility to book half of the learning time, whether at work or in private, as working time within the framework of Vertrauenslernzeit. Be it small private challenges in which new technologies are learned, attending online courses and meetups, or reading specialist magazines.
Own interests and project scopes shape and build the CPD offer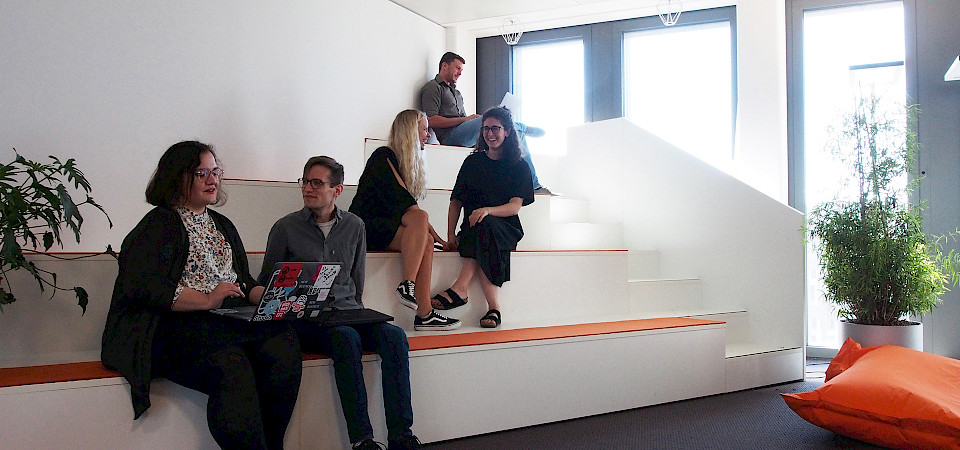 "First of all, of course, I want the CPD course to match my interests. The technology landscape today, especially in IT, is very differentiated and complex. You can get input already through the projects. However, with more extensive topics, you sometimes don't have the time to deal with all the questions or learning fields in the project in detail. Then it is a good idea to meet these requests and questions in a CPD course. In my case, I could do that with Kotlin. I consciously select the topics to expand my skills and proactively qualify for projects that appeal to me. The CPD courses are ideal for this," says Robert Gruner, explaining his approach to selecting CPD courses.
For Robert, jambit's CPD offer usually covers professional and private interests. A real win-win situation. It is not by chance. Because during the CPD planning process, our Personnel Development Specialists at jambit include not onyl the customers' needs but also represent the interests of the jambitees when creating the CPD catalog. The basis is a collection of ideas, wishes, and topics from the jambitees in advance.
As a software developer, you have the opportunity to learn something new every day. [...] It is almost impossible to find yourself in a project at jambit where you don't learn anything new. In addition, you can develop your skills through CPD and Vertrauenslernzeit. This gives us enough time to learn and develop – and if you make good use of it over time, the result will be a large amount of topics you have been involved in.
CPD procedure and learnings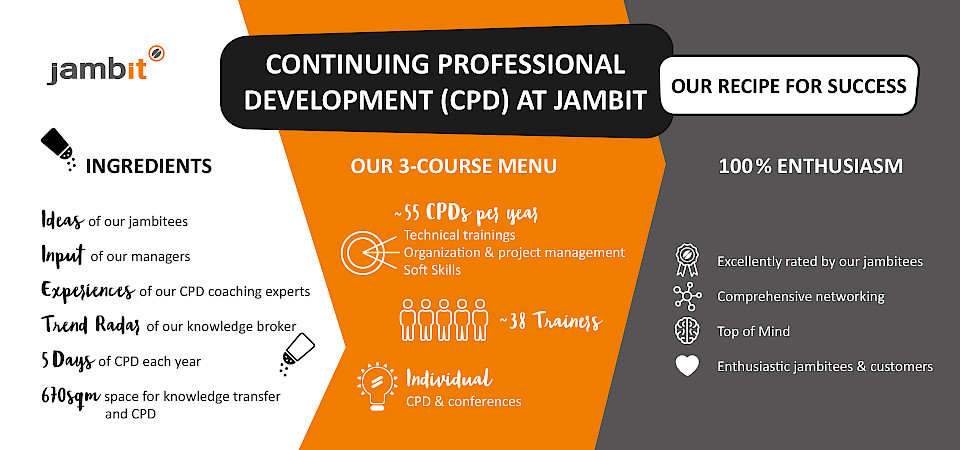 For Peter, Kotlin for back-end was "a good overview of language features and the meaning of Kotlin. The suitability for practical use – even outside of app development – was also demonstrated using frameworks with a lively community". Robert was already an enthusiastic Kotlin user before the training and will remain one. "Kotlin as such has long since ceased to be an insider tip. Kotlin in back-end works and the code looks nice. There are several technologies that are mature enough for productive use. From my point of view, there hasn't been a convincing argument for a long time to say 'Java Spring Boot' reflexively from a company's point of view when it comes to back-end development", he says. This is one reason for him to enthusiastically promote the use of Kotlin in project design discussions with jambit sales and customers.
From A to Z in the selection of trainers and course topics
Enhancing passion for technology in CPD courses
In participating in the CPD course Big Data in Practice, Marcel Jacob, Software Engineer at the Leipzig office, got an impression of the broad spectrum of technologies of the Big Data ecosystem. His highlight was the cluster created by the trainer, on which the participants were able to work practically. "This was a scenario that you probably wouldn't look at as an individual, but it was very helpful. You could concentrate fully on the logic you wanted to implement, so you could learn a lot more from it," he recalls enthusiastically. Marcel was able to pursue an old passion with the Big Data course, and at the same time he adapted the training to the project scope. "At that time, I was in a project that was mainly about Big Data. So the CPD course was the obvious choice. I also wrote my master's thesis in the field of Big Data and was a working student at a Big Data center for one and a half years. I always wanted to work in a Big Data environment and the training helped me to bring myself up-to-date," he says. In his personal development and his path at jambit, Marcel sees an advantage in learning a lot about colleagues and teamwork in projects in addition to the technology learnings. "Every team is different and you always have to get involved anew in the situation. Communication is key". He has also been able to pick up a few valuable tips in CoffeeTalks and in jambit's own format, the so-called "ToiletPapers". "It's great when you get useful hacks even when you're on the toilet", jokes Marcel about the ToiletPapers, short professional articles by jambitees on solutions to a specific problem in the software world, which change every 14 days. ToiletPaper, readers might guess, are posted on jambit's toilets, but can also be found on the jambit website.
Matching courses for all experience levels

"Basically, for example, the Big Data course I attended, is suitable for all developers who are interested in increasing data volumes and the shift from vertical to horizontal scaling. But you should definitely have one to two years of development experience," says Marcel.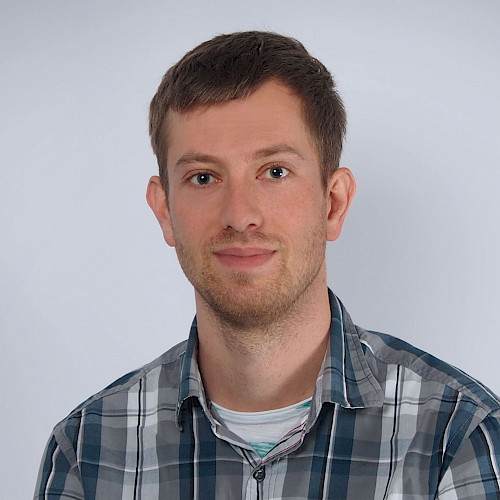 It is not always easy to choose the right CPD course for you. Even if you have your goals and development potential in mind, like Marcel. The catalog is diverse, the interests may be wide-ranging, the possible projects and used technologies almost infinite, and one's own experience level is also an important part. jambit therefore divides some CPD courses into experience levels and asks the participants about their level of knowledge and expectations towards the CPD course before its beginning.
Customized concepts and trainre partnerships as key to successful CPD courses

"He was simply stunning! With his many years of experience, the trainer has seen and tested a lot. He met our individual needs and problems and spontaneously implemented wishes. He was super motivated and invested a lot of time in the preparation of the course, I guess", says Marcel about the trainer of his Big Data course. Long-term partnerships with the trainers are an ingredient in the recipe for success of the internal CPD planning. The main ingredient are customized concepts developed in close cooperation with the trainers, which today, more than ever, must also work remotely. With the Big Data in Practice course, jambit has once again proven its good skills in the selection of trainers and content, which is always individually adapted to the course group, acknowledges Marcel.
And now? Apply at jambit and get to know our CPD culture!
Remote CPD courses: This is how we do it!