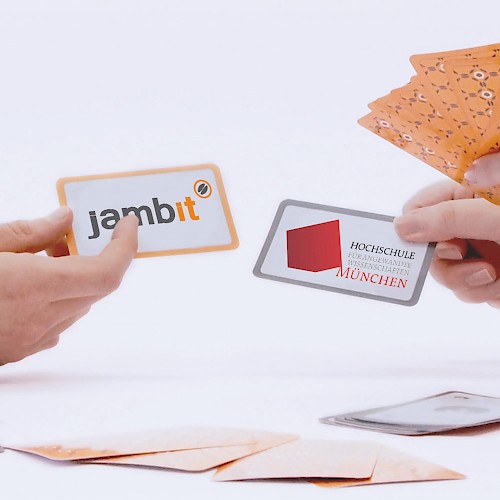 Dual studies with jambit - for 2019
Dual study = twice as good
New theoretical learnings have to be practiced. This is why jambit already offers training options for apprentice and employs working students as well as interns for several projects.
We have already been thinking about offering dual studying at jambit for a longer time. And now we made it! Since August this year jambit is official cooperation partner of the Munich University of Applied Sciences.
This means we are ready for our first dual students for september 2019.
The dual study program includes theory from university combined with various practical phases in our interesting projects. You can choose between computer science and economic computer science as well for bachelor's and master's degree.
Dual studying also means dual applying. Usually you apply at the company about one year beforehand. The application at the university takes place seperately. Therefor you need to take the restrictions of the university into account. When that step was successfull you can find a manuel about next steps here.
For the dual bachelor's degree you study in 7 semesters, 3,5 years and spend your internship as well as your thesis at jambit. During lecture times you also work for about 8 hours per week. All in all you will be integrated in our projects, get to know different business divisions and technologies like backend, web frontend and app development.
I did not regret studying dual: the practice was interesting and very helpful and I was able to deepen my knowledge. Because of the many projects that jambit realises and the many possibilities, I find it great that jambit now offers a dual study also.

Working in a company during studying, brings precious practical experience and increases the chance for a later permament employment.