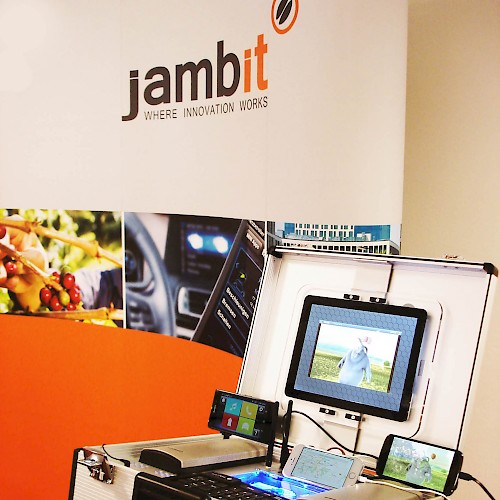 Connected Car - New possibilities for more comfortable mobility
jambit and HUML convince through expertise and customer orientation
Infotainment, Car2X communication, autonomous driving - the automotive world is facing a digital change and jambit is right ahead in shaping this process. Therefore, an own exhibition stand at the annual congress "The connected car - New possibilities for more comfortable mobility" by the Süddeutsche Verlag Veranstaltungen (SVV) must not be missed.
At the beginning of November, more than 170 experts and professional visitors came together in Munich to exchange ideas and information about the newest trends and technologies in the field of car connectivity. For jambit, the congress offered the ideal platform for presenting its service portfolio, current projects and technologies of the future to top-class industry specialists.
jambits affiliated firm HUML took also part with an interactive stand where visitors could get to know the newest connectivity technologies which allow users a quick and easy transmission of smartphone functions and apps to the headunit of a car.
jambit took the opportunity for lively exchange and networking with other experts and professionals from science and industry and could gather new inspiration itself. The next annual congress "The connected car" will take place on December 2nd and 3rd 2015 in Fürstenfeldbruck near Munich and considering the dynamic development of the field of car connectivity one can be already curious which issues will be discussed next year.