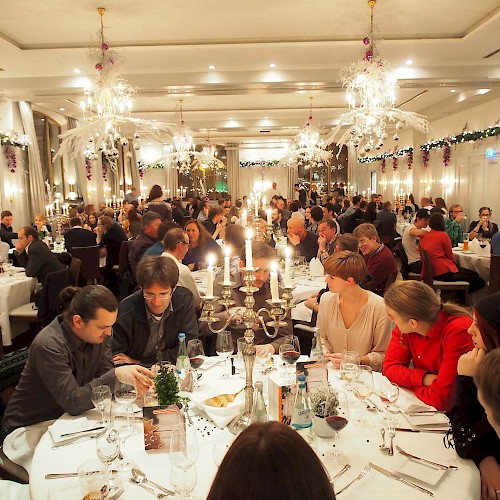 Christmas party 2014 @jambit
Cheerful Christmas atmosphere and rocking sounds
Last Friday, the legendary jambit Christmas party took place – this time in the festively decorated hall of the Pschorr at the Viktualienmarkt at the heart of Munich.
Only a stone's throw from the coffee shop where jambit got its name 15 years ago, more than 100 jambitees and their companions got together to enjoy good food & drinks, to curiously receive their Christmas presents and to dance to the rocking sounds of the jambit band.
The CEO's got surprised with a sporty survival pack and running wear in jambit-look and are now, regardless of the wintery grey weather, fully equipped to spread the jambit spirit also outdoors during lunch break.
All in all a completely successful Christmas party which did not finish until the early morning hours and which rewarded all jambitees for their high engagement during the anniversary year.
However, since it is not possible for everyone around the world to live one's personal and professional passions, jambit has thought of something special for this year's Christmas donation campaign: "Give IT 2 Peter" is the name of the scholarship that jambit finances via the organization Aiducation International. It enables a talented young boy from Kenia to complete his education which shall lead him to his goal of becoming a software developer someday. More information about the project can be found here.