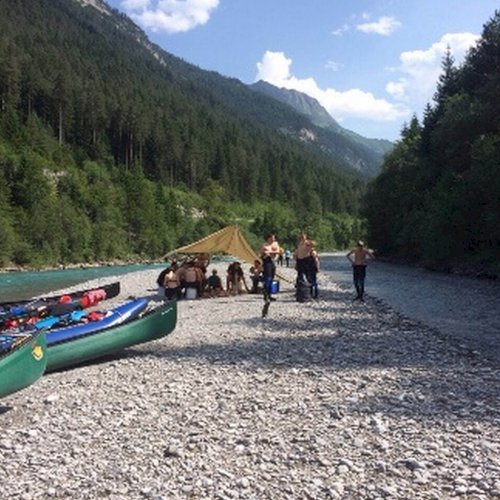 Brilliant weather for jambit canoe trip
jambitees in paddle-action
In the early morning hours, around 25 jambitees and jambitee partners left Munich in order to arrive punctually at 9:30 am at the entry point near Elbigenalp in Tirol. After the preparation of the canoes and an instruction by the guides, around 11 am they got on the water.
The canoeists did not get distracted by the heat and enjoyed a fantastic tour through the scenically appealing Alpine valley.
White water level I-III and the length of the tour required strength, skill and endurance of the participants. Besides three capsizes, they mastered rapids and other challenges bravely. From time to time, they treated themselves with refreshments in the cold Lech.
Fingerfood and cold beverages were supplied in some short and a long break. After the canoe trip, the evening ended in a cozy Tyrolean restaurant