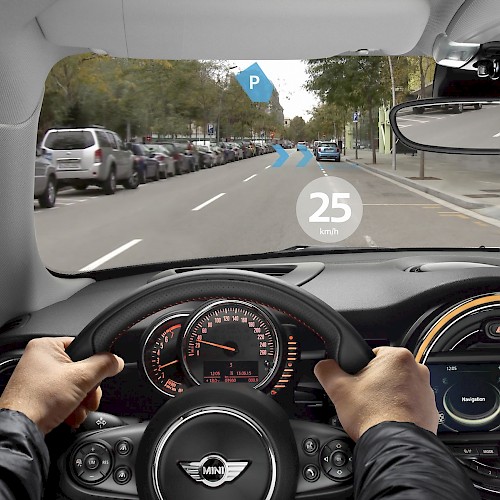 Augmented reality inside the car
Pioneering innovation at the auto show in Shanghai
In cooperation with BMW and further research and development partners, jambit developed a concept for the use of augmented reality eyewear inside cars. The result is worthy of note: 'MINI Augmented Vision' is a specialized eyewear in fancy design which projects relevant information into the driver's sight.
Among the features are navigation arrows on the road, display of speed and the current speed limit, and directions to open parking spaces. Furthermore, a smartphone can be connected to the eyewear, so the driver gets informed about incoming messages which are then read to him. A special highlight is the X-Ray View: It allows the driver to virtually look through vehicle pillars and doors to see areas which are normally concealed.
This week, the prototype will be presented on the Auto Shanghai, one of China's largest automotive shows. jambit is proud to be part of the conception team of this pioneering innovation and is eager to see when 'Augmented Vision' becomes reality on the roads.