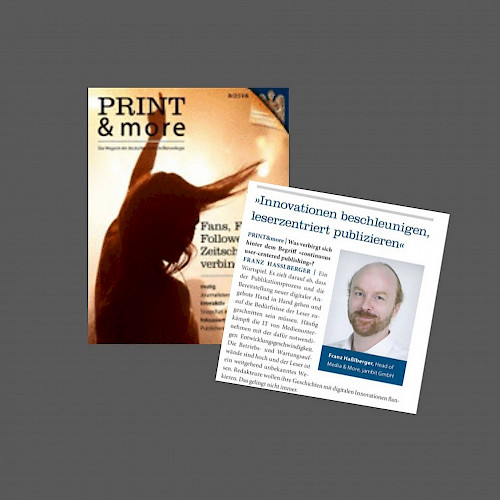 "Accelerated innovations, user-centered publishing"
Franz Haßlberger from jambit in an interview with PRINT & more
In the current edition of PRINT & more, the industry magazine of the Association of German Magazine Publishers ("Verband Deutscher Zeitschriftenverleger", VDZ), Franz Haßlberger, Head of the Business Division Media & More, talks about requirements of readers and editors to the digital media world as well as useful IT solutions for their fulfillment.
PRINT & more: What does the term "continuous user-centered publishing" mean?
Franz Haßlberger: It's a wordplay. It points at the fact that publication processes and the provision of new digital services go hand in hand and have to be tailored to the readers' needs. Often, the IT of media companies struggles with the necessary development speed. Expenditures for operations and maintenance are high and the reader is a largely unknown being. Editors want to accompany their stories with digital innovations. This does not always succeed.
What are the reasons and how could a solution look like?
Often, historically grown IT environments and large monolithic systems with strong producer lock-in on classical infrastructure make the IT expensive and slow. We plead for a modular microservice system architecture, operated in a highly automated cloud environment such as Azure, AWS or Cloudfoundry. This approach works regardless of the customer's publishing system. Operations and further development of the services are done by autonomous, agile, cross-functional teams. This makes the development of single functions faster and more independent and reduces costs for operations.
How does the publishing process become user-centered?
Big Data, Predictive Analytics and Data Driven Distribution will turn the market upside down in the next years. Jeff Bezos currently defines the yardstick at the Washington Post. Understanding customer needs, developing customized digital products, optimizing distribution processes: these are the keys to implement payment models successfully. It is the only way to manage digitalization – this is our focus as service provider for the news portals SZ and FAZ.
Meet our media experts from November 22nd to 23rd 2016 at the VDZ Tech Summit in Hamburg!
We look forward to your message!