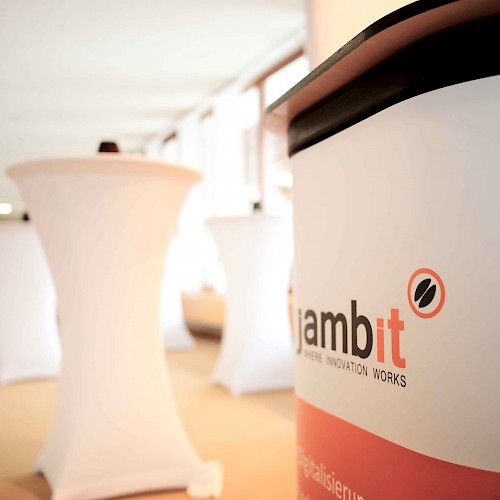 , 9:30 a.m. – 2:30 p.m.
BIZ of Employment Agency, Munich
IT Recruiting Day München 2020
For all IT professions and levels
Once a year, the IT-Recruiting Day takes place at the Munich Career Information Center (BiZ). Organized by the Employment Agency of Munich, attractive employers such as jambit will present themselves.
Numerous job offers for all IT professions and qualification levels are waiting for job seekers. The perfect opportunity for applicants to get in touch with potential employers and to find a new job.
The best software talents please go to booth 5
jambit will also join the IT-Recruiting Day on October 20, 2020, and is ready to spread some jambit coffee spirit. At booth number 5, our three recruiters Tina and Hannah are waiting to present our software projects and to clarify which of our positions might be suitable for you. From working student to senior, whether you are a Frontend Developer, AI Research Scientist, DevOps Engineer, Cloud Architect or Linux Specialist, these and many more jobs at jambit are currently vacant.
So take the opportunity and visit jambit at booth no 5. We are looking forward to many interesting conversations and hope to get to know some new potential jambitees. Additionally, you have the possibility to test your skills in our jambit code quiz!
The most important information at a glance:
WHO? Our recruiting team Tina and Hannah
WHAT? IT-Recruiting Day 2020
WHEN? Tuesday, October 20, 2020, from 9:30 a.m. to 2:30 p.m.
WHERE? Career Information Centre (BIZ), Kapuzinerstraße 30, 80337 Munich, Germany | Booth Number 5
Would you like to contact us in advance? We look forward to your message to jobs@jambit.com.