jambit supports "Aiducation"

2014 — an anniversary year for jambit! We look back on a successful 15-year company history which is mainly based on the effort and motivation of our highly qualified employees. Unfortunately, not everyone gets the chance to develop his or her passion and talent for IT. Therefore, this year jambit supports a talented boy from Kenya by financing the scholarship "Give IT 2 Peter" and helps to lay the foundation for a better future.
Building People - Building Nations
Peter dreams of becoming a software engineer to develop apps that promote fair and peaceful elections in his country. Moreover, he would like to improve the nutritional situation in Kenya by introducing a food programme at schools.
Although he completed primary school among the 2% of the highest-performing students of the year, due to his family's financial situation he won't be able to enroll in secondary school, the gate to future IT studies and thus the realization of his vision.
Just like Peter, around half of the children in Kenya and many other countries cannot attend secondary school because their families are not able to afford the school fees.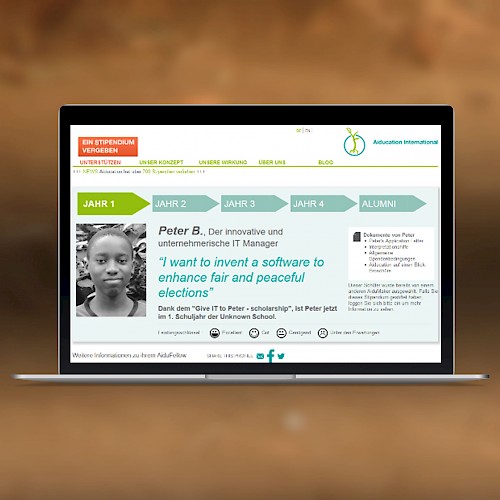 Therefore, the organization Aiducation International aims to give scholarships to talented, motivated, financially disadvantaged pupils in developing and emerging countries which ensure school education until graduation. On the one hand, it has a direct impact on the personal and professional development of the "AiduFellow", on the other hand it contributes sustainably to the economic, political and social development of the country by establishing a network consisting of future teachers, social workers, nurses, doctors, lawyers, politicians, entrepreneurs etc. who are further trained through annual Mentorship Academies.
jambit will follow Peters further development with keen interest and wishes him all the best for the realization of his dream.