Individual Software Solutions for Financial Companies in Frankfurt
jambit in Frankfurt – central location, customer-oriented and in touch with the financial world

In our jambit office in Frankfurt, we are supporting innovative software projects for customers in the financial industry

The new jambit office in Frankfurt is located in the K1 Business Club on the Zeil in Frankfurt. Modern and transparent offices fit harmoniously into the jambit corporate culture.The office is located on the Zeil, an important shopping street in the city center. With its central location, the office joins the existing jambit locations in Munich, Stuttgart, and Leipzig. For more complex software projects, short distances are an advantage for more intensive coordination and on-site customer support.
Exciting projects are waiting for dedicated software developers!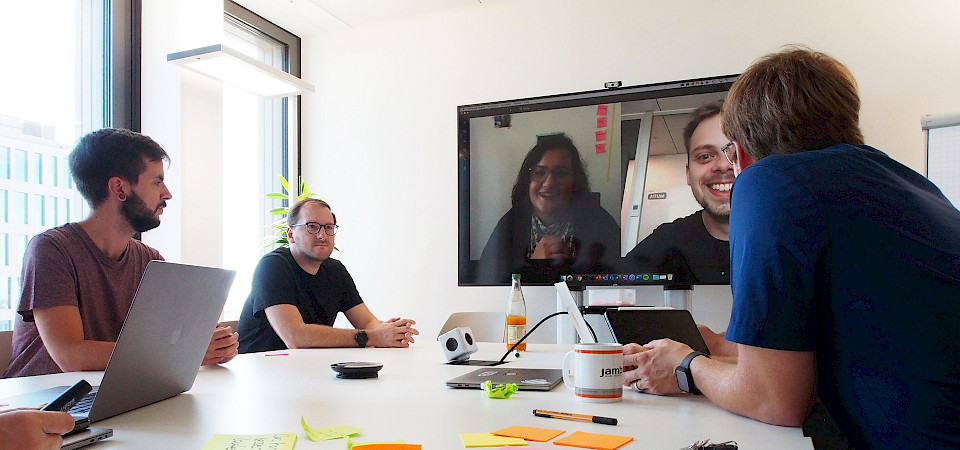 jambit offers individual career paths and exciting further development opportunities at four locations in Germany with the Top-of-Mind concept. Work is still in progress ... However, we are looking forward to your your personal message and exchanging ideas. Please feel free to talk to our HR team about your individual way to jambit.
What to expect as a jambitee in Frankfurt:
Flexible trust-based working hours
Overtime pay / compensatory time-off
30 vacation days per year
Individual career opportunities
Extensive range of continuing professional development courses & knowledge transfer
Numerous and cross-location employee events
Modern offices in unrivaled location in the middle of Frankfurt
Our HR team is always available to answer your questions. We are looking forward to your application!
E-mail: jobs@jambit.com
Phone: +49 89 452347-17
About the office in Frankfurt

jambit GmbH | Zeil 109 | 60313 Frankfurt | Phone +49 711 219 528-25
Visit our office in Frankfurt
jambit GmbH | Zeil 109 | 60313 Frankfurt am Main | Phone +49.089.45 23 47 - 0